Storing radio station presets
You can store up to six FM and six AM radio stations for quick recall using the presets buttons.
To store a preset, follow these steps:
Using the SEEK/TRACK buttons, tune to the station you want to save as a preset
Seek/Track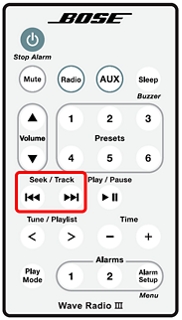 Press and hold one of the six presets until you hear a double beep. The preset number and station frequency will appear on the display
Presets
To use a preset, press one of the presets to quickly tune to a previously stored FM or AM station.